Best New Mexico Film
2007 Santa Fe Film Festival
Tromadance New Mexico 2007
"...genuine humor, well-done slapstick, a respectable amount of gore, restrained amounts of sex, a fun and laid-back attitude and a clever, whipsmart script." - EyeCraveDVD
"...just the right combination of bloody gags and good laughs, and doesn't stop until the credits roll." - The Movies Made Me Do It
"...one of those fun movies that should be seen, and I can't wait to see more from these guys." - Midnight Muenster
Necroville is the second feature length motion picture from C.R. Productions. It is the story of a town in New Mexico inexpicably overrun with horrors of the night. But despite the pervasive infestation of Vampires, Werewolves, Zombies, Chupacabra and others, life goes on. Necroville is not a story about the fall of civilization or even a post apocalyptic society, rather, a comedy that takes it a look at how even the worst of horrors can be an everyday commonplace nuisance.


Shot entirely on location in and around Albuquerque, New Mexico, this epic slacker-horror comedy took roughly seventeen days to complete production mid April 2005. Indie film veteran Richard Griffin (Director of Feeding The Masses, Raving Maniacs and the upcoming Seepage) teamed up with Billy Garberina (Co-Director of Collecting Rooftops) to co-direct Necroville. Newcomer Adam Jarmon Brown and Billy Garberina throw down to co-write and co-star with all horror SFX created by the legendary Scott Phillips (Director of The Stink Of Flesh)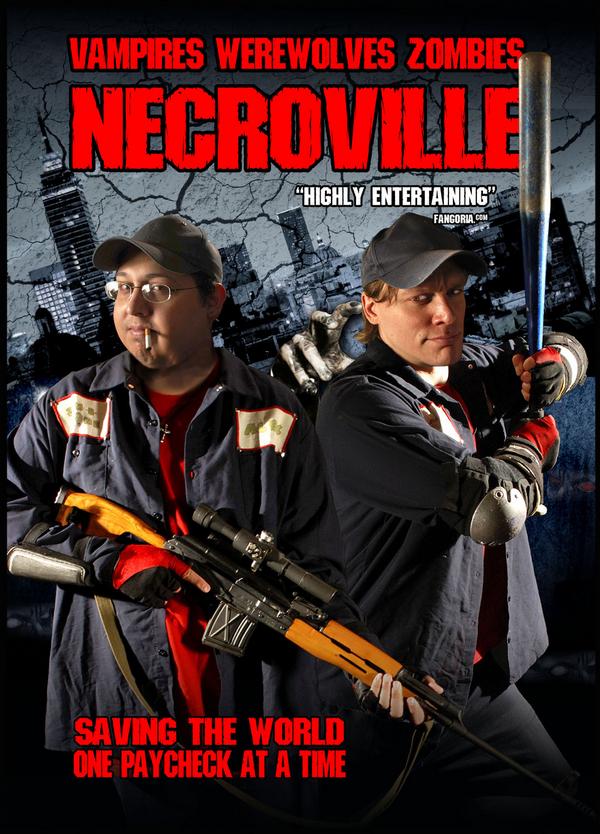 Necroville DVD:
$15 + S/H
SPECIAL OFFER! Buy Any Two Together for $25!
---
Best Feature Film
Halloween Horror Picture Show, Tampa, FL
Best Soundtrack
Fright Night Film Festival, Lexington, KY
"GIMME SKELTER is more than just another indie slasher flick. It is a glorious Go-Go frug of a meditation on moral hypocrisy, the cult of personality and the true meaning of 'The Manson Family Christmas Special'… an injection of fresh re-agent into a normally stale genre… this is the film fan's answer to the unfortunate flood of 'torture porn' films the studios are cramming down our throats. GIMME SKELTER has thrills, chills, and slaughterhouse kills without the ridiculously over-the-top gore." — Axel Howerton, EyeCraveDVD.com
"Fantastic jokes, some great casting and an ample amount of nudity to satisfy any horror fan." — Goon, Horror-Movies.ca
"GIMME SKELTER is an amazingly depraved gem of a horror movie." — Steve Smith, Skullring.org
Written and directed by Scott Phillips (THE STINK OF FLESH, DRIVE, FRIDAY THE 13TH: CHURCH OF THE DIVINE PSYCHOPATH). Starring Gunnar Hansen (TEXAS CHAINSAW MASSACRE), Trent Haaga (TERROR FIRMER), Mark Chavez (NECROVILLE, The Pajama Men), Billy Garberina (FEEDING THE MASSES), Jillian Parry (Miss Teen USA 2000), Jessicah Adkins, Ashley Bryce (BEERFEST), Gene Grant, Kenneth J. Hall (THE HALFWAY HOUSE), Kristin Hansen (THE STINK OF FLESH), Wendy Jay, Elske McCain, Jaymi McNulty, Robert Medrano (CROSS), Harry O. Morris, Ryan Mowry, Kell Niedbala, Devin O'Leary, Jeremy Owen, Kevin Santry, Kurly Tlapoyawa (THE STINK OF FLESH), Sarah Turner, Bob Vardeman, Chris Vardeman, Aaron Work.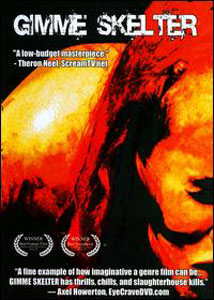 Gimme Skelter DVD:
$15 + S/H
SPECIAL OFFER! Buy Any Two Together for $25!
---

Collecting Rooftops on DVD!
BUY
NOW!!!
Only $15.00
(Plus Shipping & Handling)

Purchase via Credit Card, Check/MoneyOrder, or Local Delivery